Articles publiés |

POÏESIS n°12
Penser la complexité des devenirs urbains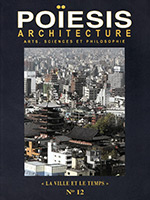 A travers la question de la production, de comment les villes se fabriquent, nous verrons comment les villes sont toujours différentes les unes des autres. C'est à partir de l'existence de différences que nous démontrerons que les devenirs urbains existent, quelle est leur nature et dans quelles temporalités ils s'inscrivent.
Nous supposons dans notre manière de penser et du point de vue restreint qui nous animent, l'urbain comme le produit de conjonctions, de confrontations et de conjugaisons de forces hétérogènes guidées chacune par des visées distinctes les unes des autres. Des alliances s'organisent de manière rationnelle ou pragmatique ; des conflits d'intérêts, des hégémonies et des asservissements opèrent dans un système d'échanges, dans un ensemble de flux d'ordre divers pour former l'objet complexe et multiple, la ville : territoire de l'échange, de la communication entre les choses et dans les choses. Les forces sociales, associatives, caritatives et coopératives, de contrebande, religieuses, fondamentalistes et modérées, militaires et industrielles, pharmaceutiques et financières, culturelles et administratives, spéculatives et politiques, universitaires s'agencent sous une infinité de rapports, cherchant appui et nombre, formant alliances et pactes, soumis aux contrats et à la responsabilité sur le territoire urbain.
Thoughts about the Complexity of Future Urban Developments
By way of the issue of production, and how towns and cities are made, we shall see how they are invariably different from one another. Based on the existence of differences, we shall demonstrate that future urban developments do exist, and we shall show what they are like and in what time-frames they are incorporated.
In our way of thinking and from the limited viewpoint informing us, we presuppose the urban as the product of conjunctions, comparisons and conjugations of heterogeneous forces each guided by purposes that are quite distinct, one from the next. Alliances are organized in a rational and pragmatic manner; conflicts of interest, hegemonies and subordinations operate within a system of exchanges, in a set of differing ebbs-and-flows to form that complex and most varied object, the city: territory of exchange and communication between things and in things. Forces that are social, associative, charitable and cooperative, involving contraband, religious, fundamentalist and moderate, military and industrial, pharmaceutical and financial, cultural and administrative, speculative and political, and university-related are all organized beneath an infinite number of relations, seeking support and number, forming alliances and pacts, subject to contracts and responsibility in the urban territory.